323-DENTIST
(323) 336-8478
Monday – Friday
8 AM – 6 PM
6200 Wilshire Blvd. Ste. 1609
Los Angeles, CA 90048
Cosmetic Dentistry
Get your smile looking its best with our family dentistry's cosmetic services. Our team of experts can provide you with a range of treatments tailored to your needs and wants, from teeth whitening to veneers and implants.
Dental Implants
Replace missing teeth and restore your smile with our family dentistry's dental implant services. Our experienced team of professionals uses the latest technology to provide you with long-lasting, natural-looking implants that can provide both aesthetic and functional benefits.
Invisalign
Invisalign is the perfect way to straighten your teeth and improve your smile discreetly. Our family dentistry offers a range of Invisalign treatments tailored to your needs. This treatment is convenient and effective, with clear aligners that can be removed for eating, drinking, and cleaning.
Teeth Whitening
Brighten your smile with our family dentistry's professional teeth whitening treatments. We offer a range of products and services that can help you achieve brighter, healthier-looking teeth in just one visit.
Preventative Dentistry
Preventative dentistry is essential for maintaining good oral health. Our family dentistry offers a range of services, from regular check-ups and cleanings to fluoride treatments and sealants that can help protect your teeth from decay.
Emergency Dentistry
Dental emergencies don't always happen during regular office hours. That's why our family dentistry offers an emergency dental clinic that is available when you need it most. We provide quick, reliable treatment for any dental injury or pain you may be experiencing.
Porcelain Veneers
Porcelain veneers are a great way to get the perfect smile you've been dreaming of. Our family dentistry can provide you with custom-made porcelain veneers designed specifically for your teeth and will help cover any imperfections or discolored areas.
Gummy Smile Treatment
Gummy smiles can be fixed with our family dentistry's gummy smile treatment. Our team of experts will use laser technology to recontour your gum line and give you a symmetrical and balanced smile that you can be proud of.
All on 4 Dental Implants
Our family dentistry is proud to offer All on 4 dental implants. This innovative treatment allows for a full arch of missing teeth to be replaced with just four strategically placed implant posts. This treatment is a great option for those who want a permanent and natural-looking smile.
About Us
Welcome to Wilshire Smile Studio Dental Group. Our friendly and knowledgable team is dedicated to making your dental visit a great experience. Our commitment to you is a comfortable dental care from start to finish, and that's our guarantee to you.
Wilshire Smile Studio has set itself apart by offering extraordinary care across a range of services, from latest technology in cosmetic dentistry such as Porcelain Veneers and Invisalign transparent teeth straightening system to natural-looking dental implants replacing missing teeth, laser treatment and Oral Surgery.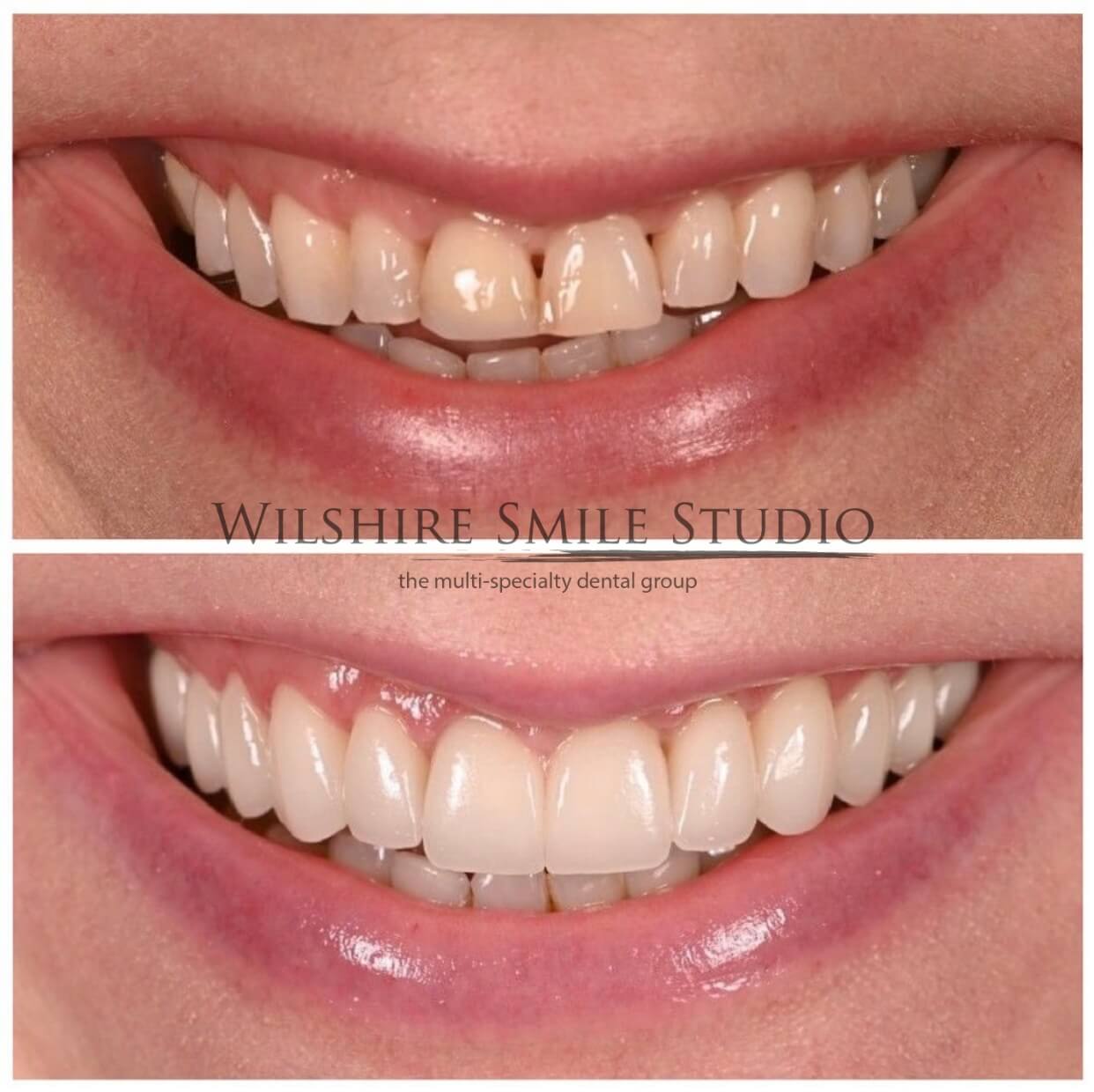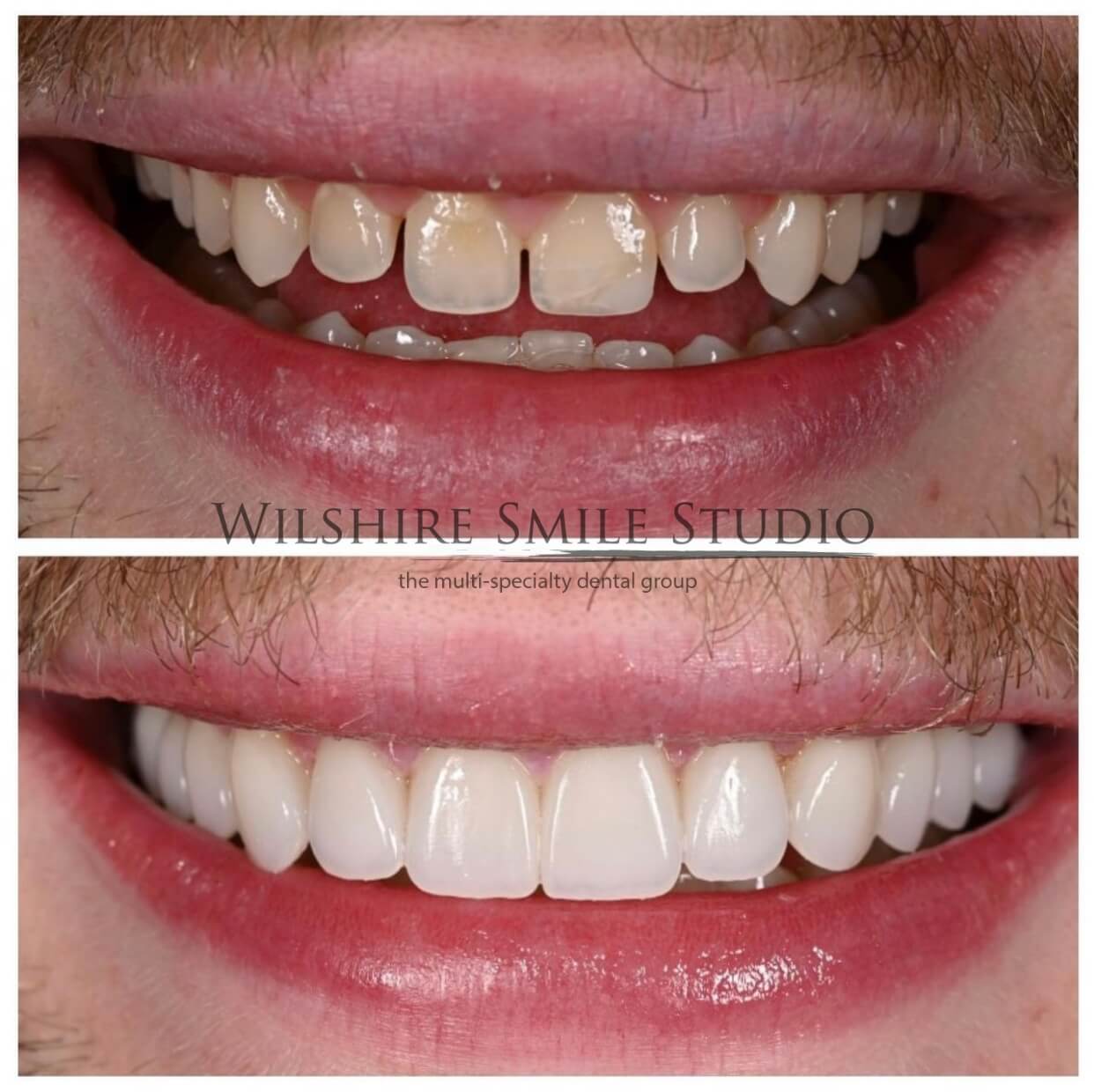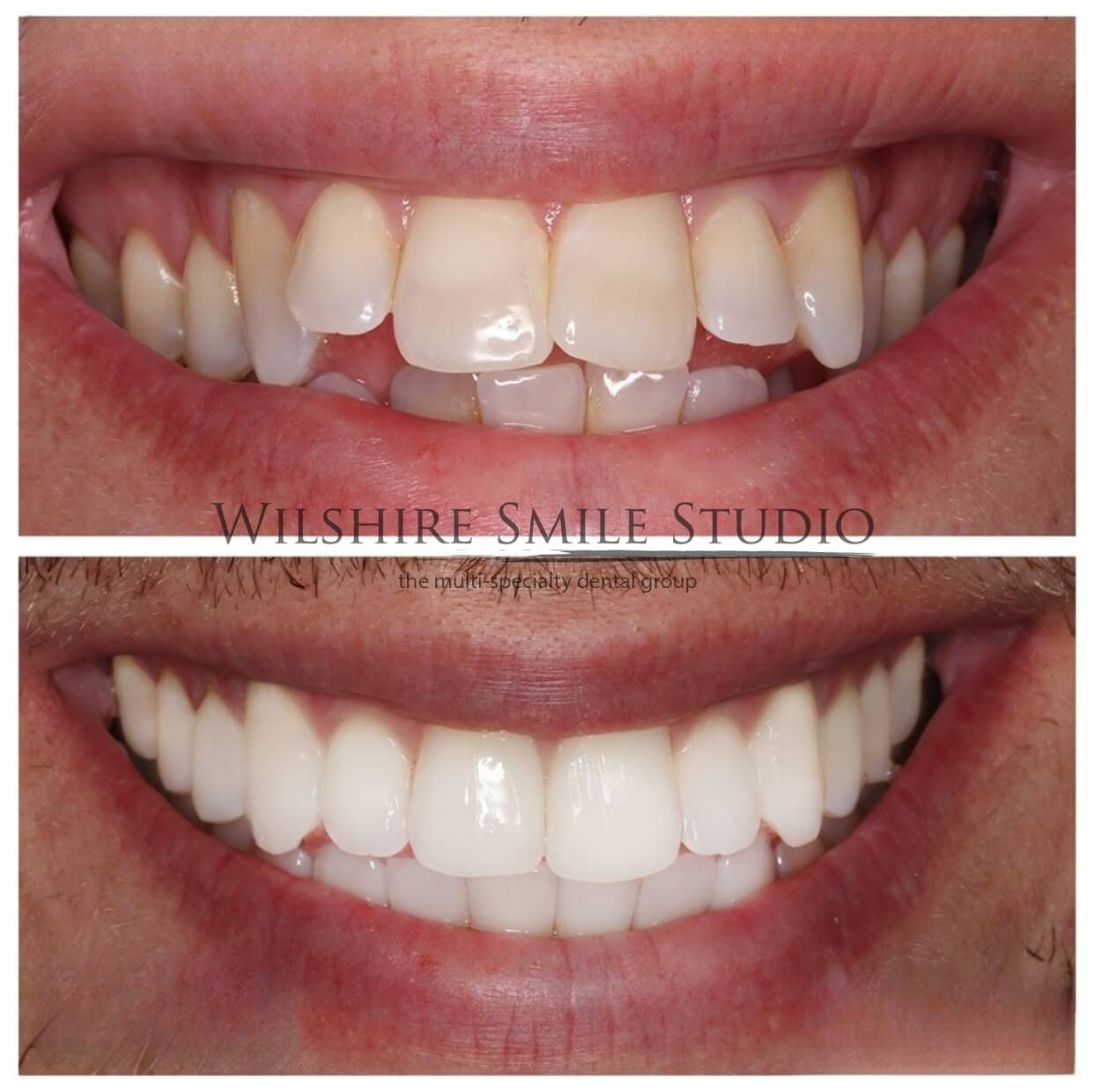 Honest, caring, and compassionate. These are the three words that best describe this office. Starting from the front desk ladies who greet their patients with a warm smile, and to the dentists who ensure that their patients receive the highest level of care, the office demonstrates consistency in their professionalism and competence.
L. C.
Can't say enough kind words about the hard working staff at WSS. There is a little wait here and there during my appointments but the warm smiles efficient service and good work more than makes up for it. Big shout out to the hygienist Tiffany. You are AWESOME!!
D. D.
Haven't actually gotten any work done here yet, but so far the onboarding process has been a dream. I'm new to LA from NYC, and this has got to be the nicest dentist office I've ever been to. View is incredible, staff very friendly. They were happy to find a way to treat my gf and I at the same time so things were convenient for us. Dentist explained things very well, made me feel comfortable. Thank you guys.
D. F.
I had an amazing experience at Wilshire Smile Studio working with the hygienist Tiffany! She was fun and personable and provided guidance when asked. I highly recommend this clinic.
E. R.
Wilshire Smile Studio has set itself apart from the competition in Los Angeles by offering extraordinary care across a range of services, from Invisalign transparent teeth straightening to natural-looking dental implants replacing missing teeth. And we provide everything at affordable prices with customized financing.
LA WEEKLY
The first thing that most people notice about a person is their smile. While it's been said that one's eyes are the windows to their soul, the smile is equally as important. It is a measure of a person's health and a glimpse of their personality….
New York Weekly
Residents of Los Angeles no longer need to be filled with dread at the thought of their upcoming dental appointment. Dr. Igal Elyassi has used his personal experiences with dentistry to create his own unique practice….
Dentistry Today
A new patient came into Wilshire Smile Studio for his first visit and a hygiene evaluation, admitting he had not been diligent in his brushing and flossing. Additionally, it had been three years since his prior professional cleaning…
In this ever-busy, fast-paced world, oral health often takes a backseat. However, the pain and discomfort accompanying unexpected dental emergencies ⛑️ often make us sit up and take note. From sudden toothache to a broken tooth, dental emergencies are common and can...
read more
Frequently Asked Questions
Why Choose Wilshire Smile Studio?
Very few dental practices in Southern California can offer true expertise on so many aspects of oral health, from specialists in oral surgery and periodontics (treatment of advanced gum disease) to the region's most effective dental hygienists and extensive experience with Invisalign orthodontic treatment. You don't need to be referred elsewhere for whatever your smile needs are.
Are Your Treatments Painful?
If you are one of the one-third of Americans who have not had a full dental examination in the past year because painful past experiences, you will be happy to know that none of the procedures at Wilshire Smile Studio involve pain. Our dentists make sure you are completely comfortable in the dental chair and have the entire range of choices to eliminate pain, from nitrous oxide (aka laughing gas) for deep relaxation and local injections to oral sedatives and even intravenous anesthetic drips.
Can't I Just Do a Good Job Brushing and Flossing and Not Visit a Dentist?
Dentistry is the one medical specialty that requires the patient, doctor, and staff to work closely together to prevent disease. There is no pill you can take to prevent cavities, gum disease, or the loss of teeth. That means that you need to have a full dental exam twice a year, including a digital x-ray as appropriate, which involves minimal radiation and can reveal oral health problems not visible during a simple physical check-up. A semi-annual professional cleaning is also advisable, since our dental hygienists have the tools and techniques to do a much more thorough job than any patient can do for themselves.
Do You Do Cosmetic Smile Makeovers?
We are respected by other practices for our expertise in the whole range of cosmetic procedures, from being able to remove eight shades of discoloration in one hour in the dental chair and attaching porcelain veneers to cover chipped and cracked teeth to dental implants to replace missing teeth and Invisalign oral trays as an alternative to traditional braces.
Is Wilshire Smile Studio Affordable for Someone on Limited Income?
We accept dental insurance and can also refer you to a financing plan. Our prices are quite reasonable while we adhere to the highest standards. Set an appointment for a dental exam and to discuss with one of our dentists what your best options are to achieve your perfect smile.
What are emergency dental services?
Emergency dental services are immediate dental treatments provided to individuals who experience sudden, severe dental pain or trauma to their teeth, gums, or mouth. These family dentistry services provide prompt relief to patients and prevent further complications. Emergency dental services may include immediate care for knocked out or broken teeth, abscesses, toothaches, and other sudden dental concerns. Not all dental clinics provide emergency dental services, so it is best to find a reputable emergency dental clinic in your area that offers prompt and effective family dental care.