All On 4 Dental Implants Specialists Los Angeles, CA
DENTAL IMPLANTS SPECIALISTS
If you have lost a number of teeth and may lose more, you should consider having our dentists assess whether you are a candidate for the life-altering All-on-4 Dental Implant. This makes the replacement of lost teeth a more feasible option for many.
Replacing teeth is not only important to enable you to smile confidently, but also allows you to chew effectively, restore facial form and have normal speech. Unfortunately, once a tooth is lost (especially if several are), the jaw bone undergoes a significant change, with its quality and quantity decreasing significantly over time.
Unfortunately, removable partial dentures do not stop this process, but in fact, accelerate it. Any kind of denture is only a temporary solution and it is extremely uncomfortable and hinders normal speech and taste. Dentures often cause significant change in facial form and can be cosmetically displeasing. An alternative to a complete or partial denture for appropriately selected patients is the All-on-4 Dental Implant. This is anchored in the bone with strategically-placed implants, allowing your restorative dentist to replace 10 to 12 teeth for each of the four dental arches. This process is somewhat different than other forms of full mouth dental rehabilitation, enabling a much faster process to replace lost teeth, while avoiding the necessity of extensive bone augmentation surgery, which would take a long time to heal. This gives your dentist cost-effective, predictable, and excellent results.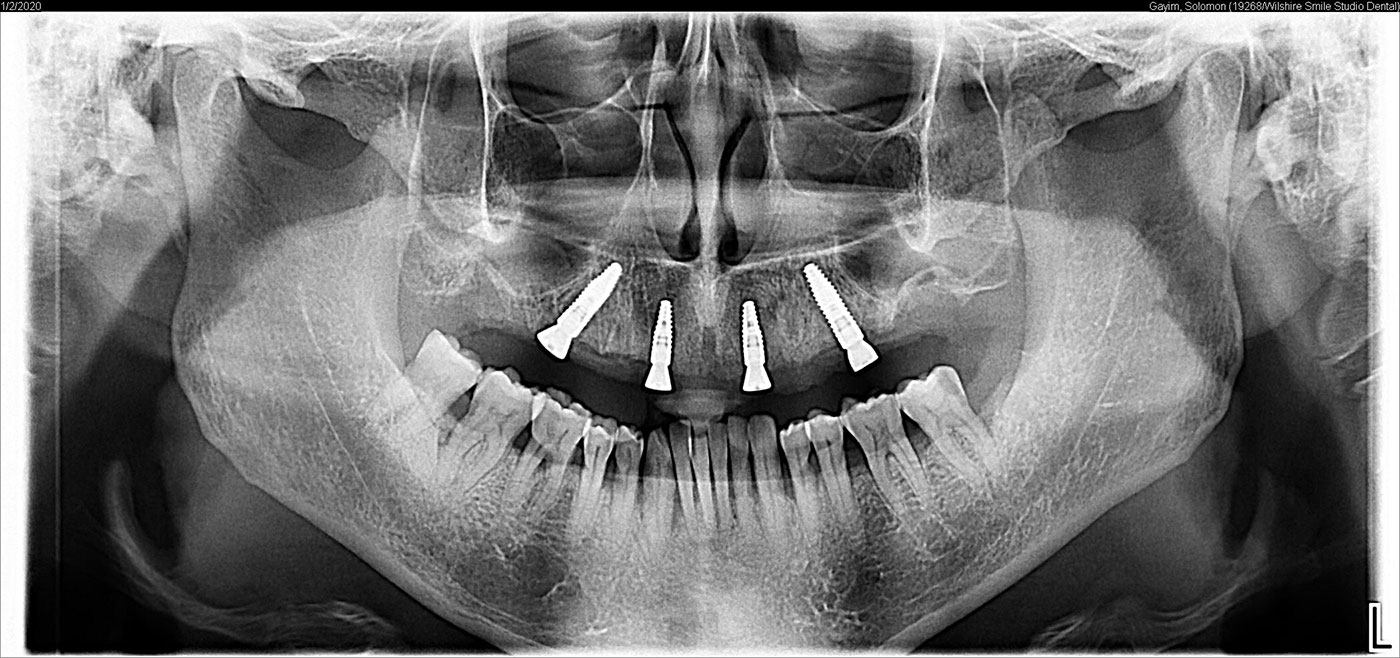 DENTAL REHABILITATION
If you have lost most of your teeth or have been told that your remaining teeth need to be extracted, the All-on-4 concept of dental rehabilitation should be considered, since it provides an excellent option to give you the quality of life you deserve. You no longer need to worry about teeth falling out, losing or breaking your denture, buying and applying denture adhesive, or the discomfort of wearing a denture or a removable partial.
Of course, with any kind of implant you will need proper dental hygiene maintenance to ensure long-lasting results (see the instructions at www.LAdentist.com).
To schedule an assessment of your best options to improve the health of your teeth and gums, call the Wilshire Smile Studio at 323-DENTIST (336-8478).